In 1980 I had great fun being involved in a project that landed myself, Lynn Ellsworth of Boogie Body Guitars, Ron Armstrong of Stars Guitars, Seymour Duncan of Seymour Duncan Research Labs, and Oscar Ortiz into the Guinness Book of World Records. We built the world's largest electric guitar, 10'2" tall, a triple size Fender Stratocaster!
Lynn Ellsworth and I made the body, neck, and pickguard in our shops in the Seattle area while Ron Armstrong and the crew at Stars Guitars made the bridge, jack plate, neck plate, nut, and strap buttons from solid brass in their San Francisco shop. Seymour Duncan made the pickups at his shop in Santa Barbara, and Oscar Ortiz machined parts to enlarge the shaft and knob of the Schaller bass tuners.
All of the parts were gathered together in the Stars Guitars shop the week before the Guild of American Luthiers 1980 convention that was held in the Palace of Fine Arts in San Francisco. We all worked hard to get the pieces assembled in time for the convention.
The project was a great success! Anyone that has seen the guitar is truly amazed at the size and that it actually worked. We held the record for several years and friends have asked if I am going to make an even bigger guitar to get the record back again, but I tell them no, there are other challenges to take on!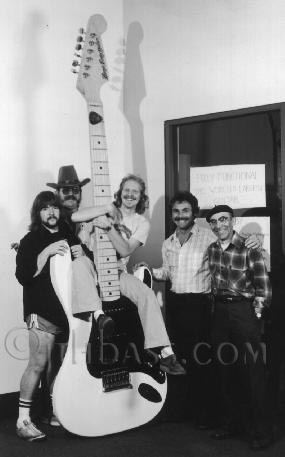 In this photo published in the
1984 Book of Guinness World Records,
from left to right, Seymour Duncan,
Ron Armstrong, Jay Hargreaves,
Lynn Ellsworth, and Oscar Ortiz.